ebia, the global leader in innovative electrophoresis products, is the only company that is 100% focused on the art and science of electrophoresis. We continue to invest in research and development to bring new instruments and reagents to market that help automate workflow and increase productivity in the clinical laboratory. What's new at Sebia?
Cap Piercing Capillary Electrophoresis Platform
The fully automated CAPILLARYS™ 2 FLEX Piercing instrument, with cap piercing capabilities, is now available! The FDA cleared the assay for whole blood hemoglobinopathy testing with automated sample rack inversion and cap piercing – no pre-analytical preparation. The CAPILLARYS 2 FLEX Piercing is versatile, allowing for different samples types and assays such as Protein 6, Immunotyping, and CDT and A1c once cleared.
New Automation for Gel Electrophoresis
Sebia has two new innovations in gel electrophoresis to help automate and streamline the laboratory's workload. Both of the new systems work in conjunction with the HYDRASYS®2 instrument.
ASSIST is the new autosampler designed to ensure standardization of all pre-analytical steps. ASSIST's automated sampling capability streamlines laboratory workflow and maximizes biohazard safety for the laboratory. ASSIST is able to pipette samples from primary bar-coded tubes directly onto a sample application comb; it can also perform standard and customized dilutions for IFE or CSF analysis, and pipette antisera for use with the Dynamic Mask application system.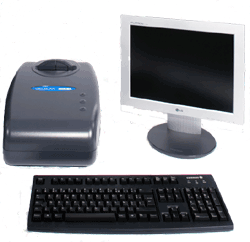 GELSCAN is the latest innovation from Sebia to provide high-resolution image capture technology. The GELSCAN utilizes CCD technology which gives a multipoint densitometry reading and is available either as a stand-alone system or incorporated onto the HYDRASYS 2 platform to create an all-in-one system. Gels are read in less than one minute, regardless of gel size or configuration, and provide precise quantification of all fractions; clear gel images can be read or stored electronically.
IT-IF Control now available
Sebia introduces our new IT/IF Control. This new qualitative quality control is for the detection and characterization of human monoclonal immunoglobulins (Ig G, Ig A, Ig M, Kappa and Lambda) for Immunotyping and Immunofixation methods. This unique product contains IgG, IgA, IgM, Kappa and Lambda components all in one product