Sebia's second generation semi-automated agarose gel electrophoresis system is designed to automate the many tedious steps involved in traditional electrophoresis and immunofixation testing. The HYDRASYS 2 system can carry out all phases of electrophoresis — from sample application to migration to incubation to staining, destaining and drying. The SCAN option allows for high resolution image capture and quantification of a gel in less than one minute. The walk-away nature of the agarose gel electrophoresis system provides substantial labor and cost savings to clinical laboratories.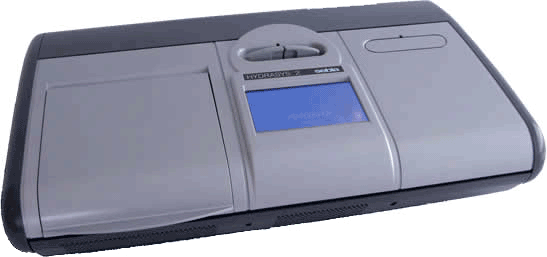 The semi-automated electrophoresis system is designed for efficiency — the system can be migrating, staining or reading the gel (SCAN option) simultaneously. Gel processing is performed on the compact electrophoresis systems with a throughput of 162 proteins, 45 hemoglobins or 18 immunofixations in just one hour. Various gel configurations are available to accommodate a wide range of sample volumes; the HYDRASYS 2 agarose gel electrophoresis system adapts to any size and type of workload. Utilizing patented methodologies for sample and antisera application, assay resolution and sensitivity are greatly enhanced.
The Focusing option provides a high voltage module associated with specific programs. This allows for operation of the ISOFOCUSING assays: HYDRAGEL 3 and 9 CSF ISOFOCUSING and HYDRAGEL 18 A1AT ISOFOCUSING kits.
The HYDRASYS 2 system can also be used with the ASSIST autosampler to automate the sample application, sample dilutions, and anti-sera pipetting; barcode management also provides positive sample identification when used with the PHORESIS software.
A comprehensive agarose gel electrophoresis test menu is available and includes traditional assays, as well as novel, innovative assays.