[ Test Menu ] Sebia's innovative capillary electrophoresis system is designed to optimize and completely automate electrophoresis testing. The CAPILLARYS 2 utilizes liquid flow electrophoresis for applications in the clinical diagnostic setting. Continuous sample feed and the use of eight very narrow capillary tubes functioning concurrently provide a high throughput of up to 80 Protein samples per hour. The direct detection of proteins at a precise wavelength, which is assay dependent, improves accuracy and linearity and eliminates the need for staining. A patented, protected capillary horseshoe design provides for:
Tight temperature control during sample migration, generating consistent reproducible results from analysis–to–analysis and from capillary–to–capillary.
Extended capillary life of greater than 3,000 samples per capillary — or greater than 24,000 samples per test system.
Sebia's capillary electrophoresis instrument provides complete walk-away automation from bar-coded primary sample tube to final result -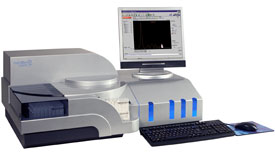 positive sample ID.
Moderate complexity of the capillary electrophoresis instrument means simpler operation and reduced labor requirements.
The CAPILLARYS™ 2 features a constantly expanding capillary electrophoresis test menu that includes Protein, Immunotyping (automated alternative to immunofixation), Hemoglobinopathy, and CDT (chronic alcohol abuse marker).
The CAPILLARYS™ 2 is operated by proprietary, user-friendly PHORESIS software for result review, recall, and interpretation purposes. PHORESIS also provides interfacing and networking capabilities to further streamline processes in the laboratory.